THE WORD FOR YOU TODAY
STRENGTH & GUIDANCE FOR DAILY LIVING
Used by Over 5,000 Churches Across America
Used by Over 5,000 Churches Across America
 The Word For You Today devotional prevents us from becoming spiritually empty because it keeps us filled with the Word of God. This powerful literary tool has created an excitable enjoyment within our congregation and beyond.
"This is the best devotional I have ever read. Our congregation has been using The Word For You Today for over twelve years. It's a great gift to visitors and new converts. I highly recommend it to every pastor and congregation who wants to grow deep in the Word."
"…as a church, we can all be on the same page with our devotional. That is exciting to me…I believe this is a gift from God for our church."
"About 10 years ago, my Dad was introduced to a devotional called The Word For You Today that changed his life.
Dad used to say that it seemed that no matter what was happening in his life, that day's passage always seemed to be written 'just for him.' He was so blessed by this devotional that he began passing it out and sharing it with anyone and everyone he came in contact with, believing that it would be just the thing each person needed to start their day with hope."
"I want to inspire my employees and give hope to hurting people daily. By inspiring employees and customers you then create consumer loyalty and most of all changed lives through the Gospel."
A

n engaging

 devotional in your pocket.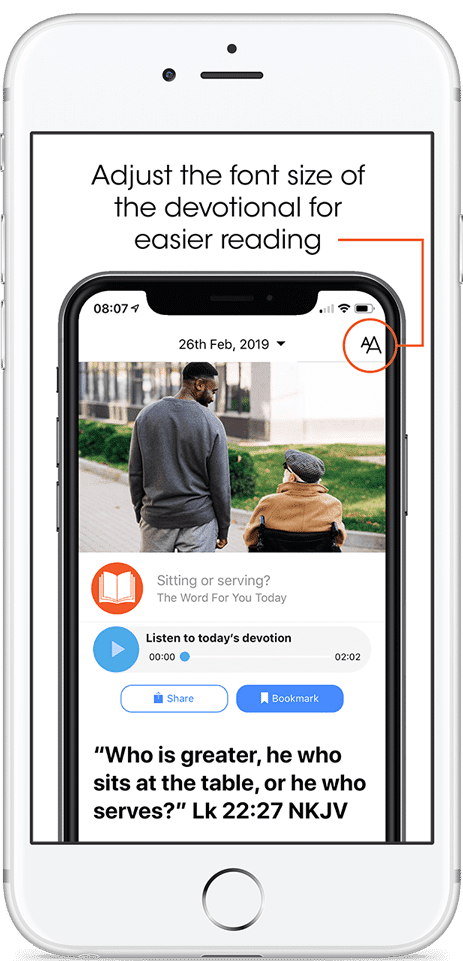 An engaging devotional in your pocket.